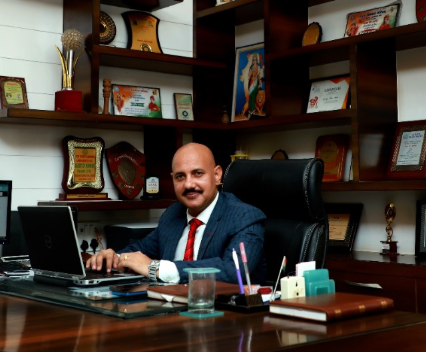 VISION–WHERE TOGETHER WE THRIVE AND REACH FOR EXCELLENCE
Welcome to the Maharaja Public School's website. As you read through the pages of this site, you will learn more about our wonderful students, our School, and get a feel for the vibrancy and strength of our lively school.
This is a school where we are deeply committed to ensuring that every day, each and every student has the attention and care of our professional staff. We work to foster a school environment that is supportive and encouraging for every stakeholder.
At MPS, we want to provide an exemplary educational experience that nurtures an international perspective developed through the British Council via International School Award. Not only do our students demonstrate excellent academic progress and achievement while at MPS, they become grounded in the important qualities of integrity, leadership, adaptability, resilience, and true compassion for others. Additionally, our students are active caretakers of the environment.
We are focused on being a student and learning-centred school that is consistently moving forward in preparing students to be successful as modern global citizens.
The school's strategic plan, excellent teaching and support staff, parents, and MPS School Board are aligned with and support achieving the school's vision…MPS: Where Together We Thrive and Reach for Excellence
Our school mission, in essence, identifies our critical focus as MPS enables the development of the skills, knowledge, values and attributes needed for:

-Lifelong learning
-Community service and
-Global citizenship
I encourage you to explore our pages online but most importantly to take the time to visit us on campus. We are looking forward to meeting you.
N.S. Punia
Principal
Maharaja Public School